Three-peat & 24th "STAR" for Sykes in 2018 "Frank Turner Duckpin Classic"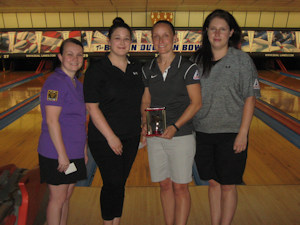 Amy Sykes defended her title again this year at the WNDA portion of the 2018 "Frank Turner Classic" making it three wins in a row at Dual Lanes and her 24th career WNDA tour title. Sykes was the second highest qualifier after the eight game Qualifying Round with 1256. She went 3.5 & 1.5 in the Division Round with a total of 718 for five games to advance to the Bracket Finals. She tossed 502 for the three games in the bracket round defeating all three opponents and picked up the $3000.00 paycheck. Sykes who holds the five game World Record of 882 which she set in 2016 and the twelve game World Record of 1872 which she set in 2017, both at Dual Lanes, loves coming to Hagerstown. She currently is the only pro duckpin bowler, man or woman, with more than 20 titles.
Top qualifier, Mindy Hammond rolled 1288 for the eight games of qualifying and went 5-0 with 762 for five games in the division round (averaging 158 for thirteen games) lost by one pin in the first bracket round.
Other Division Round Winners were:
Amanda Zangla 680(4-1)
Noelle DeAntoniis 675(4-1)
Melissa Hartner 604(4-1)
Dani McClay 692(3.5-1.5)
Connie Ward 743(3-2)
Jill Manns 719(3-2)
In the Bracket Finals:
Round 1
Manns defeated Hammond 128-127
Zangla defeated Ward 139-131
McClay defeated DeAntoniis 138-109
Sykes defeated Hartner 177-97
Round 2
Zangla defeated Manns 138-134
Sykes defeated McClay 164-128
Final Round
Sykes defeated Zangla 161-125
Mr. Turner awarded each bowler $50.00 that rolled 175 or higher game. The winners were:
Dani McClay 175               Lisa Huber 189
Amy Sykes 177                   Cindy Buenger 191
Dani McClay 178               Candy Kerr 194
Cindy Buenger 181           Mindy Hammond 194
Amy Sykes 181                   Amy Sykes 197
Mara Card 181                   Mindy Hammond 205
Chasity Gray 183
Pictured are the top 4 finishers L to R - Jill Manns - Amanda Zangla - Amy Sykes - Dani McClay
For complete results, go to wndatour.com