WNDA "FRANK TURNER CLASSIC"
Sykes defends her title...wins "23rd STAR"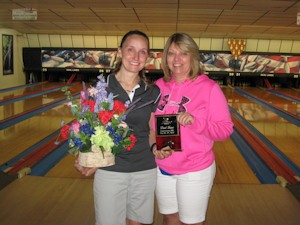 Amy Bisson Sykes coming off an unbelievable 2016 when she broke the 5 game & 12 game World Records at Dual Lanes in route to winning the WNDA portion of the "Frank Turner Classic" and two other pro tour stops, defended her title by defeating Leah Lancaster in the final match of the 2017 "Frank Turner Classic" and picked up a $3000.00 paycheck. She was the HIGH QUALIFIER with a seven (7) game total of 1129, a 161 average.
Sykes was the second highest qualifier in the semi-final round going 4-1 with a five (5) game total of 743.
Other Qualifiers were:
# 1 - Leah Lancaster 696 (4.5 - 0.5)
# 3 - Cindy Buenger 729 (4-1)
# 4 - Amanda Zangla 679 (4-1)
# 5 - Lisa Huber 692 (3-2)
# 6 - Marcie Gregory 686 (3-2)
# 7 - Robin Albert 606 (3-2)
# 8 - Chris Wander 582 (3-2)
In the Bracket Finals:
Round 1
Lancaster defeated Wander 126-113
Zangla defeated Albert 127-101
Sykes defeated Gregory 176-142
Buenger defeated Huber 124-103
Round 2
Lancaster defeated Zangla 119-101
Sykes defeated Buenger 143-120
Final Round
Sykes defeated Lancaster 135-118
Sykes (L) is pictured with WNDA President Tammy Ashworth